Mar 25, 2019
Tips For Teaching With Art In Any Subject Area
Art inquiry is a powerful way to engage students with diverse learning needs, improve critical thinking and social-emotional skills and make learning relevant to students' lives. Yet many teachers shy away from teaching with art, which causes their students to miss out on these potentially transformative learning experiences. Teaching with art creates opportunities for ...
TeachThought
The Science of Drawing and Memory
It's long been known that drawing something helps a person remember it. A new study shows that drawing is superior to activities such as reading or ...
Edutopia
Belonging and Its Role in Math Achievement
When students don't perform well in a subject, the typical responses relate to student motivation, e.g., they need more grit, they don't have the right growth ...
edWeb
Friendships - The Key To Happiness
I often recommend to others who seek to do what I tried, DON'T! It is too dangerous – you are taking an awful risk. It is not wise to isolate yourself for ...
Pick the Brain
Trivia

The vernal equinox heralds the start of which season in the northern hemisphere?

See the answer below.
Letters to the Editor
Win a $25.00 Staples Gift Card.
What Year Was It?
Triangle Shirtwaist Fire in New York City
In one of the darkest moments of America's industrial history, the Triangle Shirtwaist Company factory in New York City burns down, killing 145 workers.
The day was Mar 25. What year was it?
Quote of the Day
Change is the end result of all true learning.
Leo Buscaglia
Trivia Answer
The vernal equinox heralds the start of which season in the northern hemisphere?
Answer: Spring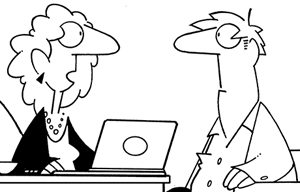 "Are you ready to start investing or do you want to keep throwing your money away on food, clothing and shelter?"


Copyright © Randy Glasbergen