Jun 17, 2019
Principals Shouldn't be Lonely
What is the biggest mistake you've seen an administrator make (or, if you are an administrator, that you've made)? What should have been done, instead? Commentaries from Anne Vilen, Marcy Webb, Dr. Jason Kotch, Roxanna Elden, Baruti Kafele, and Dr. Manuel Rustin "kicked off" this five-part series. You can listen to a 10-minute conversation I had with Anne, Marcy, and Jason on my BAM! Radio Show. You ...
Education Week
15 Examples of Student-Centered Teaching
Student-centered teaching is simply the process of teaching with student needs 'first.' In 28 Student-Centered Instructional Strategies, we expanded some on ...
TeachThought
How to Talk to Someone with Depression
Depression is something that has always been around and most people will experience it at some point in their lives, often without even realising it. If you are ...
Pick the Brain
8 Ways To Get Your Teens To Start Investing
How much money would you have if you started investing in your teens? We can't turn back time but we can turn your teen into an investor. Here are 8 ways to get ...
DoughRoller
Trivia

In 2007-08, about how many of the public school teachers were under age 40?

See the answer below.
Letters to the Editor
Win a $25.00 Staples Gift Card.
What Year Was It?
Statue of Liberty Arrives
The Statue of Liberty, a gift of friendship from the people of France to the people of the United States, arrives in New York City's harbor.
The day was Jun 17. What year was it?
Quote of the Day
"You have learned something. That always feels at first as if you had lost something."
H.G. Wells
Trivia Answer
In 2007-08, about how many of the public school teachers were under age 40?
Answer: 44%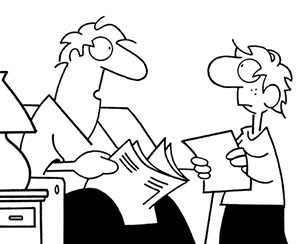 "Algebra will be useful to you later in life because it teaches you to shut up and accept things that seem pointless and stupid."


Copyright © Randy Glasbergen