Apr 22, 2019
Decluttering Your Classroom
Anybody who knows me would question whether I have the qualifications to talk about decluttering a classroom. For years I joked that my room was a picture of my brain merged with those of my middle schoolers. It was "organized chaos," to quote Ray Bradbury. I was charmed by my own disorganization.
Lately, however, the obsession with decluttering our homes has ...
Edutopia
How Schools Can Be a Refuge Amid Chaos
Four police cars were parked in front of the school building. The front office was full. I sat with a handful of students, along with a parent with a newborn baby ...
edCircuit
Is Wi-Fi a Health Threat in Schools?
Since the early 2000s, when wireless connectivity and the Internet evolved into everyday technologies, they have come to pervade our home and work lives ...
EducationNext
5 Superpowers Every Teacher Has
Hello. Am I the only one who feels like a total failure of a teacher right now? I'm running on approximately zero motivation, which means today I: Was late to ...
We Are Teachers
Reversing the Trend on Teacher Shortages
A growing problem in school districts across the country, teacher shortages negatively impact school climate, culture, and student learning by undermining teacher ...
National Association of Elementary School Principals
Trivia

How many times was Charles de Gaulle president of France?

See the answer below.
Letters to the Editor
Win a $25.00 Staples Gift Card.
What Year Was It?
The First Earth Day
Earth Day, an event to increase public awareness of the world's environmental problems, is celebrated in the United States for the first time.
The day was Apr 22. What year was it?
Quote of the Day
"Education, whatever else it should or should not be, must be an inoculation against the poisons of life and an adequate equipment in knowledge and skill for meeting the chances of life."
Havelock Ellis
Trivia Answer
How many times was Charles de Gaulle president of France?
Answer: Two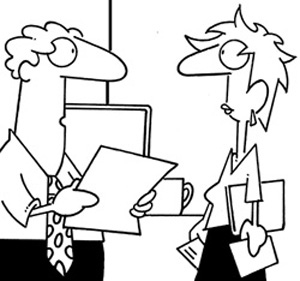 "As soon as we solve one problem, another one appears. So let's keep this problem going for as long as we can!"


Copyright © Randy Glasbergen