Jun 25, 2019
Calculating Faculty Bias Against Conservative Students
Harvard's decision to rescind admission to Parkland-shooting survivor Kyle Kashuv was narrowly about the young man's racial slurs and misogynistic language at age 16 but it's also fueling a debate about ideological conservatives on American college campuses. Kashuv is a former high school student leader at Turning Point USA, a conservative group, and vocal proponent of gun rights. The latter ...
The Hechinger Report
Ensuring Accessible Content for All Students
This summer, many faculty will work on developing or revising curricular content for their courses. One of the keys in developing new digital materials is verifying ...
eSchool News
Literacy Starts in the Library
Literacy is the foundation of everything we do for our learners. Reading is a required skill for every subject, whether it is science, English, math, or social ...
Language Magazine
What Does It Mean to Be Almost Gifted?
The starting point for the question of what defines someone as almost gifted would be answering what it means to be gifted and working backwards from ...
edCircuit
Value of Instructor Modeling
The growing pool of MOOC reports and research continues to highlight the heterogeneity of learners' goals and purposes for joining MOOCs, with goals ...
eLearn Magazine
Trivia

What teacher is best known for founding the American Red Cross?

See the answer below.
Letters to the Editor
Win a $25.00 Staples Gift Card.
What Year Was It?
U.S. Air Force Reports on Roswell
U.S. Air Force officials release a 231-page report dismissing claims of an alien spacecraft crash in Roswell, New Mexico, almost exactly 50 years earlier.
The day was Jun 24. What year was it?
Quote of the Day
"When I get a little money I buy books; and if any is left I buy food and clothes."
Desiderius Erasmus
Trivia Answer
What teacher is best known for founding the American Red Cross?
Answer: Clara Barton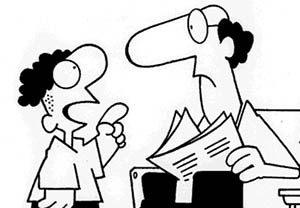 "We learned about genetics today, Dad. I inherited your eye and hair color. I also inherited your memories of Wild Suzie and the summer of '68!"


Copyright © Randy Glasbergen