Apr 24, 2019
A.I. May Help Alleviate Pressures Facing Educators
I had the pleasure to speak with Edward Keller, the CEO of Smart Science® Education, about what he learned from the 2019 Curiosity Conference organized by RoboTerra and the World Innovation Summit for Education (WISE). Before the conference, Keller, who was a panelist at the event, had a personal understanding of AI. But afterwards, he left impressed with a greater ...
edCircuit
How To Strengthen Fact Fluency Without Tears
When building fact fluency in my third grade classroom, I use a few consistent routines, and give students plenty of time to master their facts. To begin, students ...
Teachers Pay Teachers
Good Sleep a Must for Teens with ADHD
Teenagers tend to shortchange themselves on sleep, but when they have attention-deficit/hyperactivity disorder (ADHD), that can really hamper their thinking ...
National Association of Special Education Teachers
12 Activities & Tools to Build Curiosity
Building social and emotional-learning (SEL) skills such as curiosity requires face-to-face interaction, meaningful discussion, and reflection. Edtech is no ...
eSchool News
Schools Are Facing a Teen Sleep Epidemic
The high school where I teach implemented later start times about three years ago. We made the local news and got some praise for being progressive. The reality ...
We Are Teachers
Trivia

Hopalong Cassidy is a fictional cowboy hero, what was the name of his horse?

See the answer below.
Letters to the Editor
Win a $25.00 Staples Gift Card.
What Year Was It?
William Shakespeare Born
According to tradition, the great English dramatist and poet William Shakespeare is born in Stratford-on-Avon.
The day was Apr 23. What year was it?
Quote of the Day
"It is only as we develop others that we permanently succeed."
Harvey S. Firestone
Trivia Answer
Hopalong Cassidy is a fictional cowboy hero, what was the name of his horse?
Answer: Topper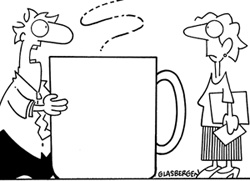 "Stress management is for wimps!"


Copyright © Randy Glasbergen